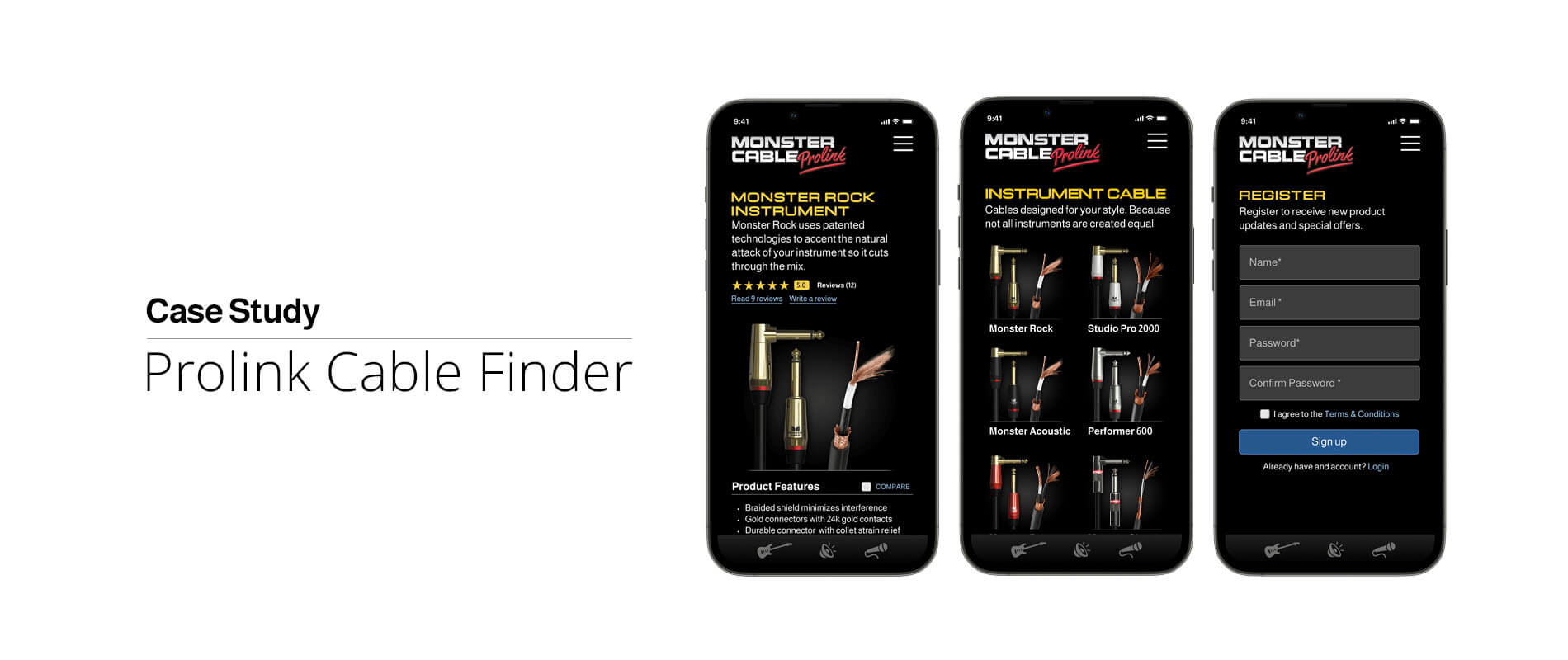 Project Overview
Monster Cable Prolink products were created by laser fusion design engineer and company founder Noel Lee. The cables were developed over 35 years of innovation and tinkering and use advanced proprietary audio technology that delivers the full tone of your instrument.
ROLE: Art Director/design, Brand Manager, Researcher
Problem Statement
The challenge was that this technology could be difficult to wrap your head around. For years, sales assistants and pro audio customers struggled to understand the feature sets of Noel's innovative application specific instruments cables. This confusion led to an assumption that the proprietary technology was just hype.
The Goal
To use new methods to educate the customer and demystify the product's proprietary technologies providing tools to better understand the feature sets and validate the premium price point.
This phase focused on understanding the pro audio customer's behaviors, needs, and motivations.
Research confirmed that the complicated technology behind the cable created confusion and lowered the customer's confidence in the product. It also revealed that customers wanted to know technical information about their gear. Interviews identified the challenges of buying a cable in a saturated marketplace where all products look the same and feature sets listed on packaging didn't always clear the air.
Quantitative Research
The Survey – A group of fifty pro audio enthusiasts including Guitar Center sales associates, Monster endorsed artists, and local bay area musicians were surveyed on their experiences, pain points, and buying habits. The primary user group were identified as 18 to 40 year old committed musicians.
.
Qualitative Research
The Interviews – To gain deeper understanding of our customers' feelings through direct observations, we interviewed a crosscut of our test group on their experiences and pain points of being a pro audio consumer. These interviews helped us understand user behaviors, attitude, and experiences.
Interview goals
Finding out the current journey of discovering and shopping for cables.
Finding the pain points of users in context of discovering and shopping.
Do you prefer buying online or in stores?
What do you dislike/dislike about shopping in stores for music gear?
What do you like/dislike about buying gear online?
What are your pain points when shopping for cables?
How many pro audio purchases do you make per year?
What is your yearly budget for pro audio gear
What turns you off to a product?
How important is packaging in your purchase decision?
Do you seek help when buying accessories in-store?
What gives you confidence that you've chosen the proper cable?
Personas
Personas were created to understand our customer's needs, experiences, behaviors, and goals. This brought more clarity as to who we were designing for and helped us simplify the ideation process to understand which issues and data points needed to be addressed.
Empathy Mapping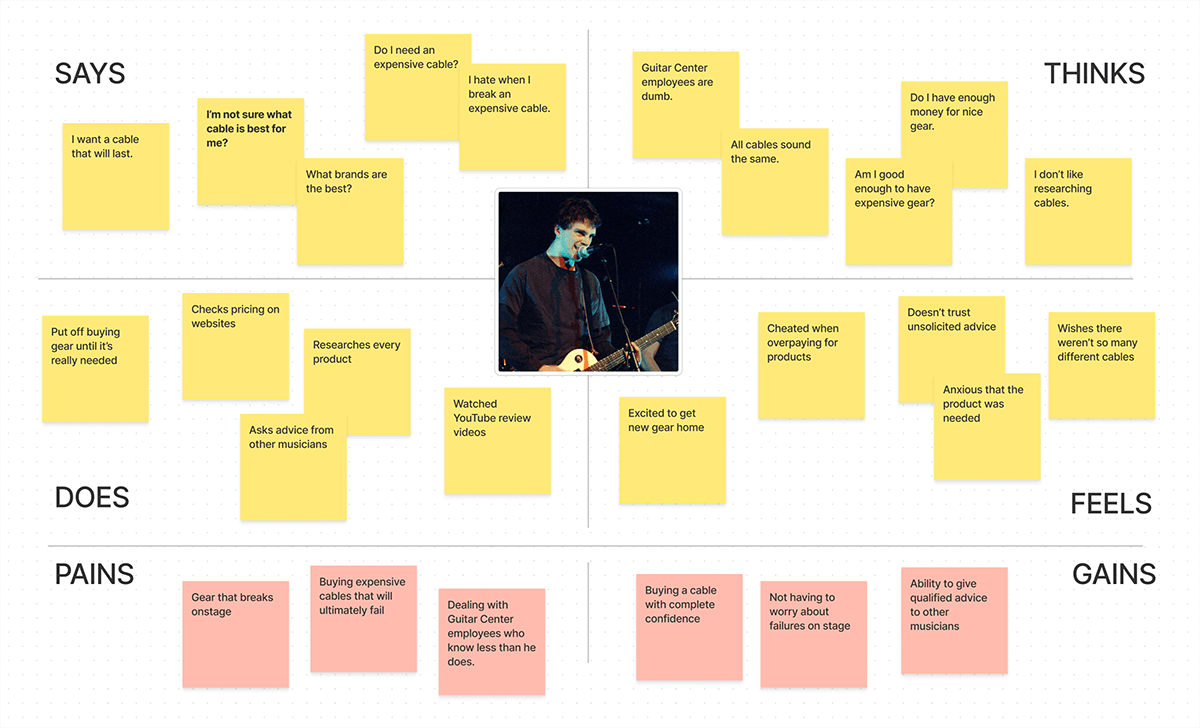 A competitive analysis was performed to understand our competition in the channel. How many options did the customer need to choose from? Of those choices how did the competition stack up in regard to best, better, good offering and feature sets.
Data included: Who is competing for the same hooks, what product types/lengths they offered, feature set comparison, and pricing analysis.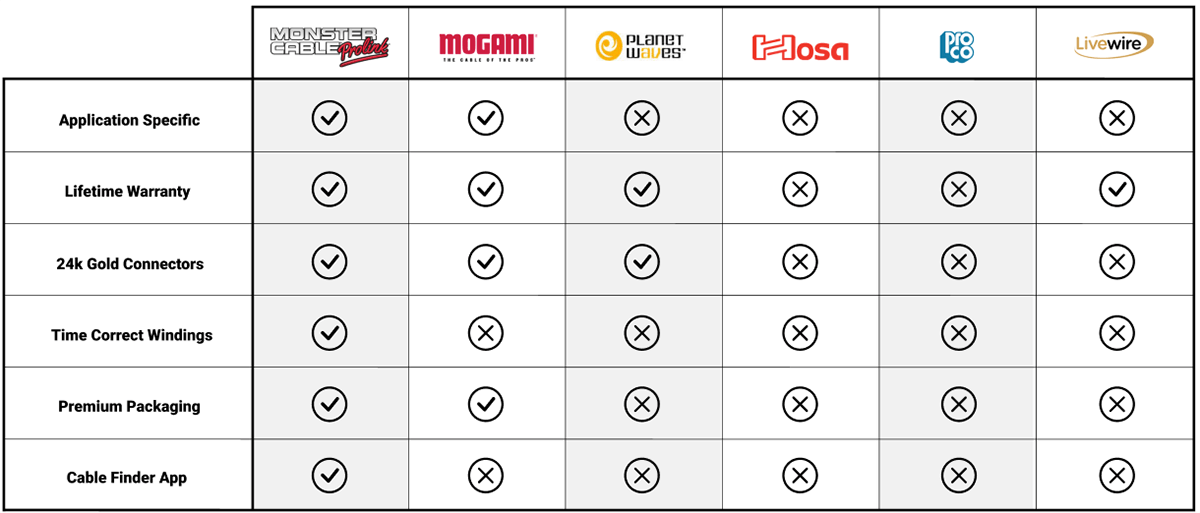 Customer Journey Map

Site Flow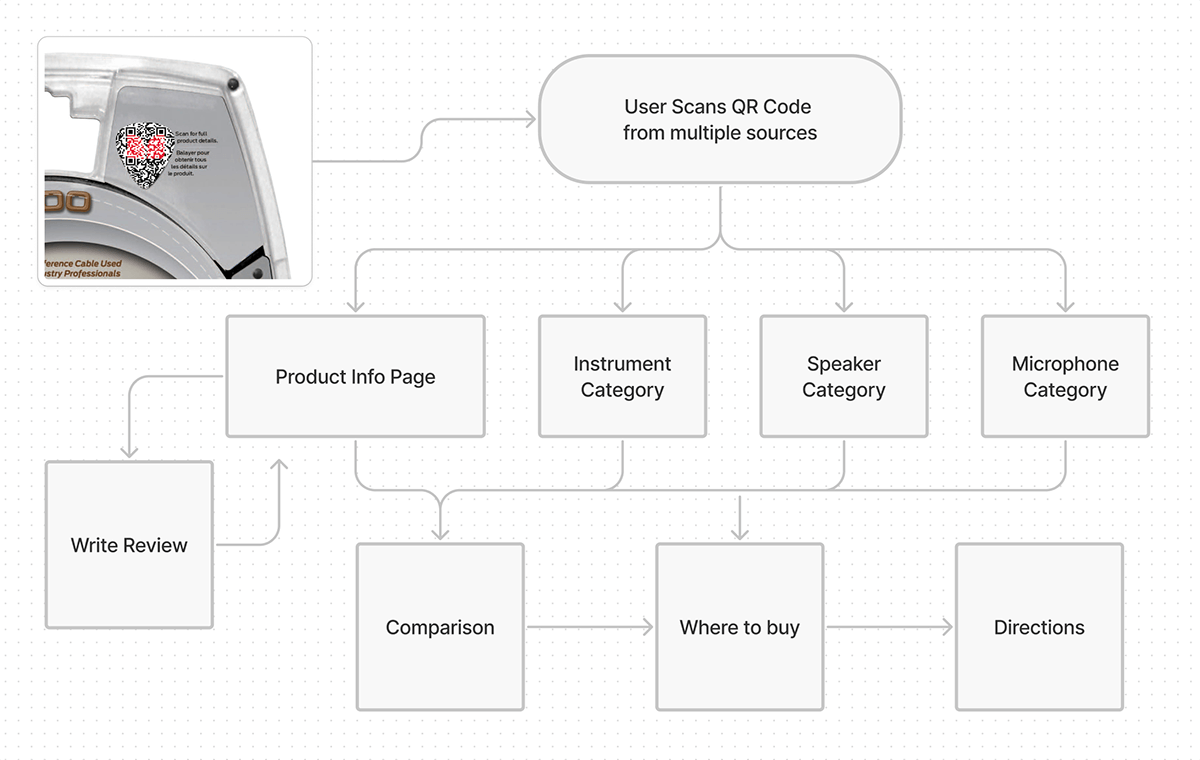 Design System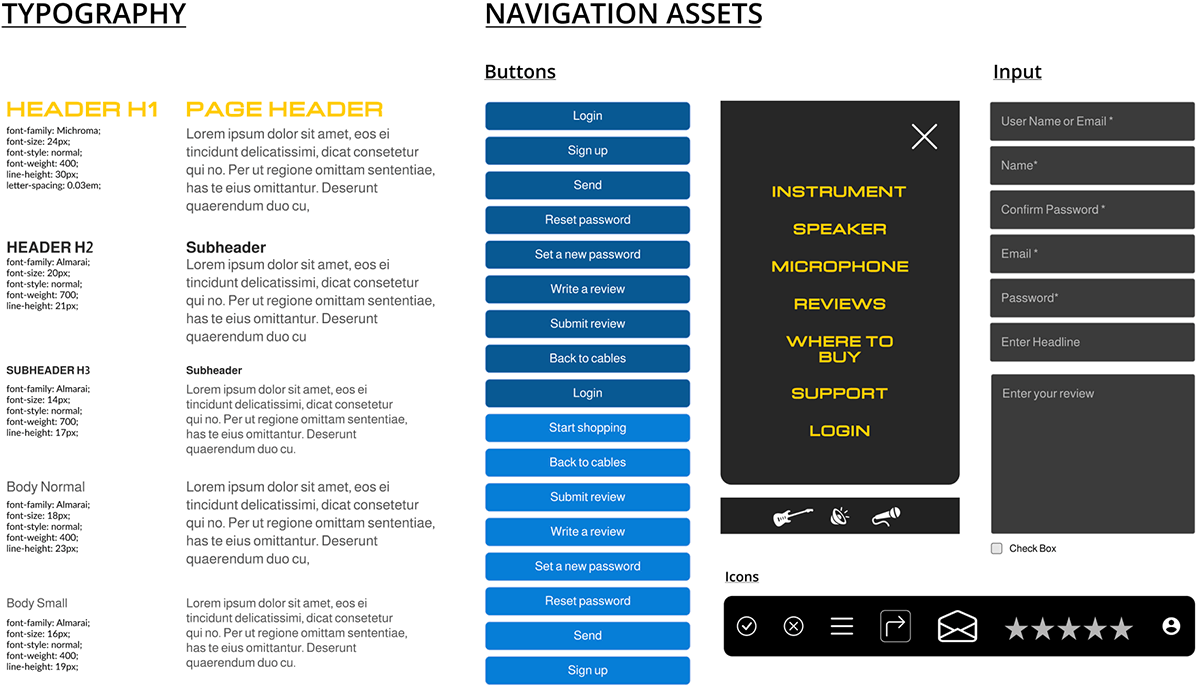 Design System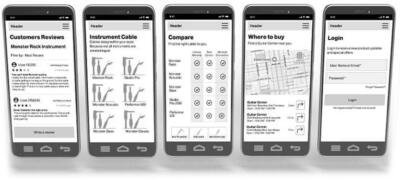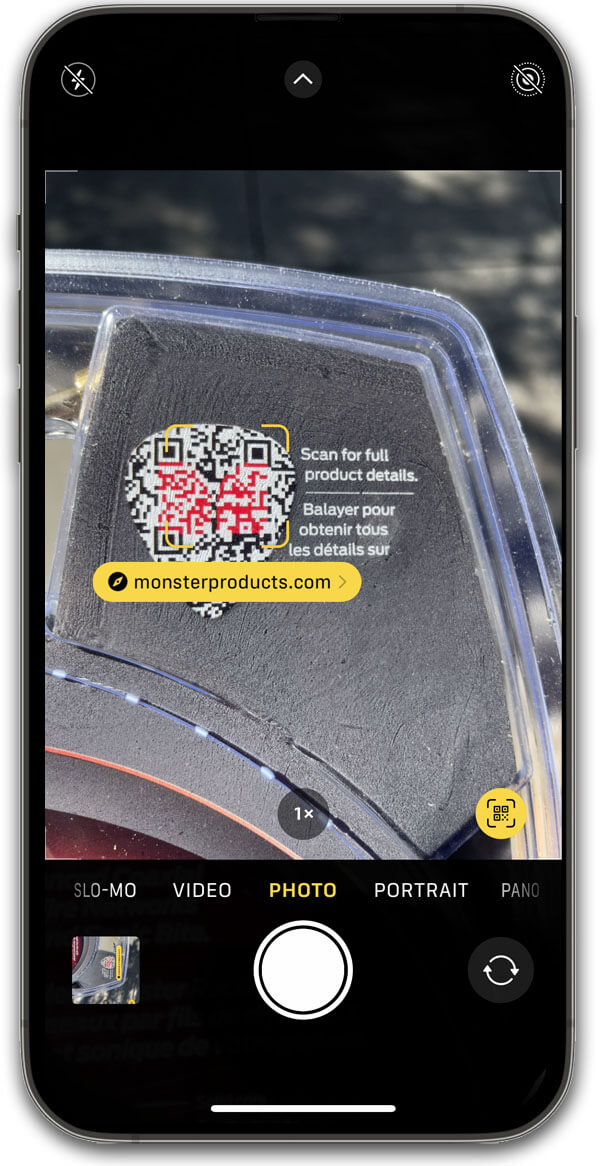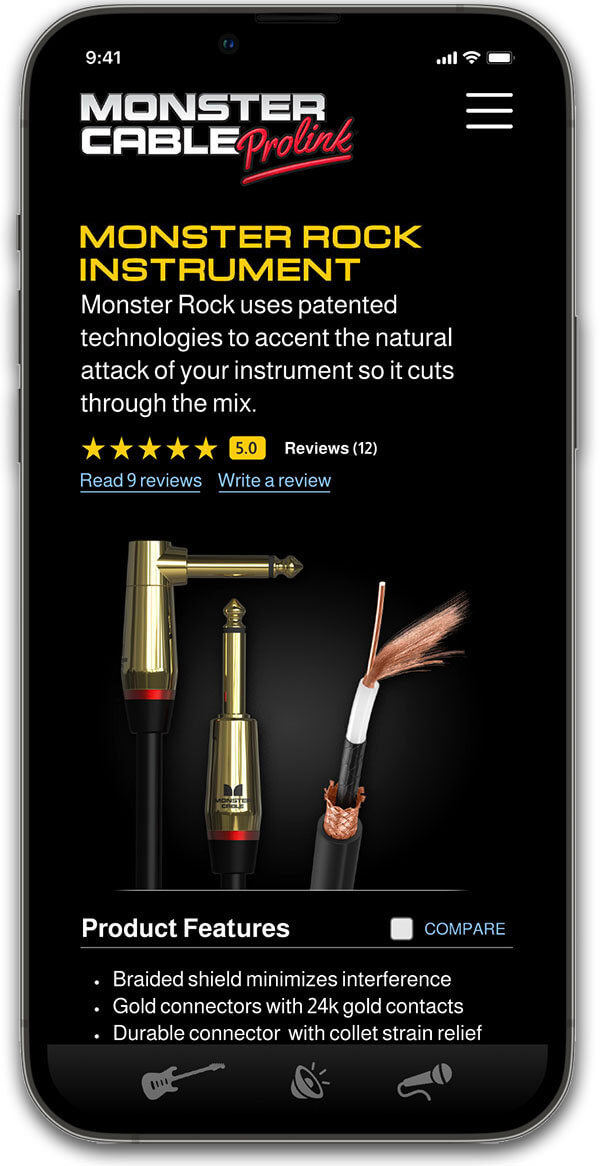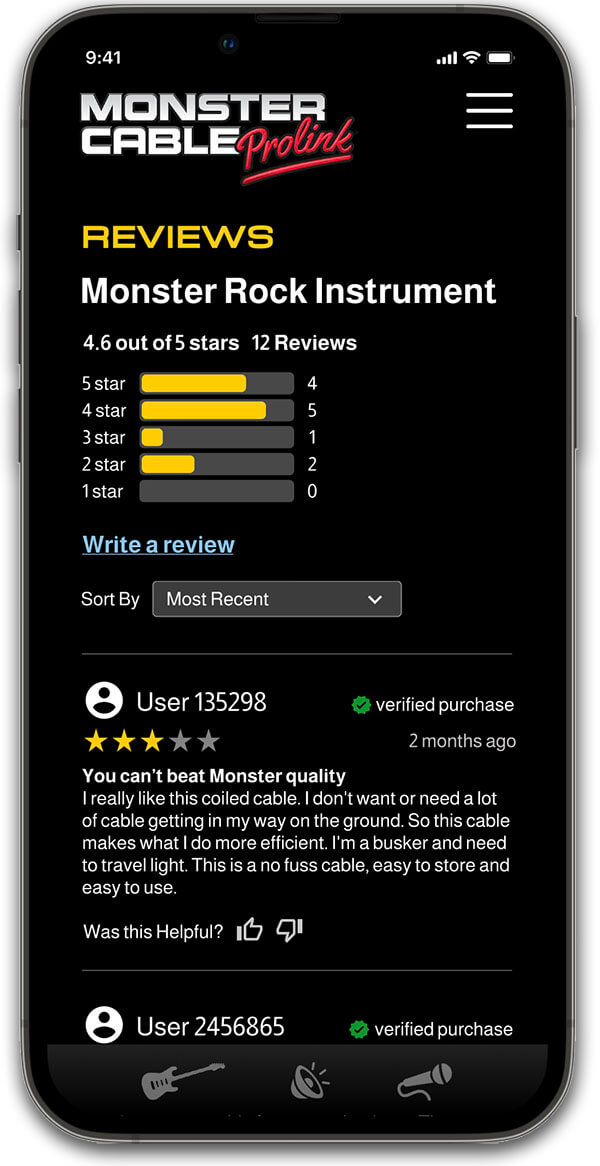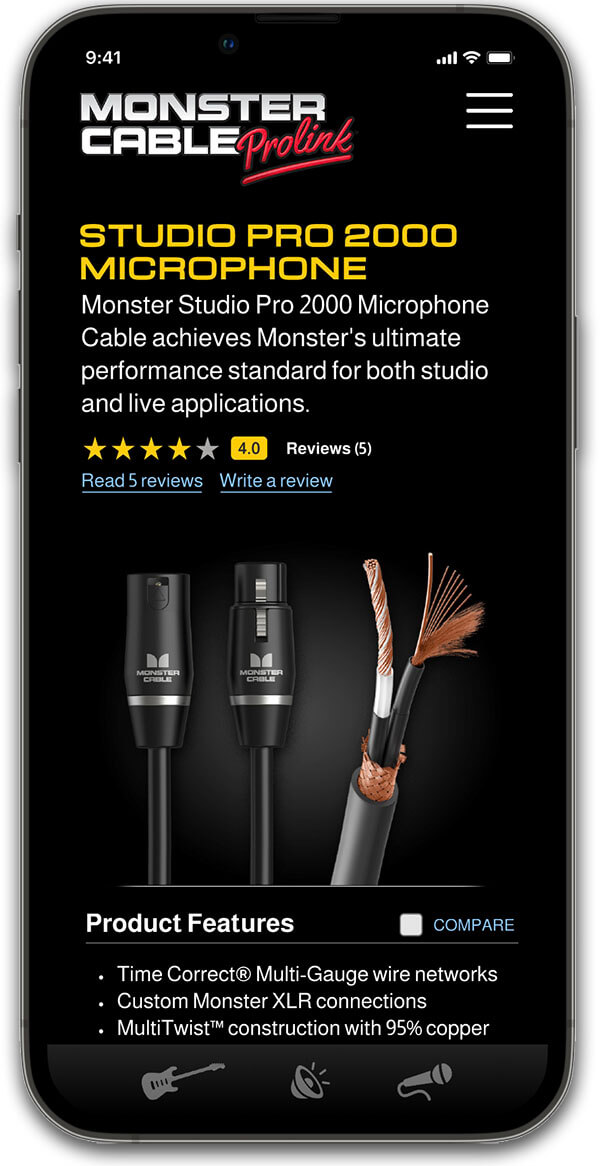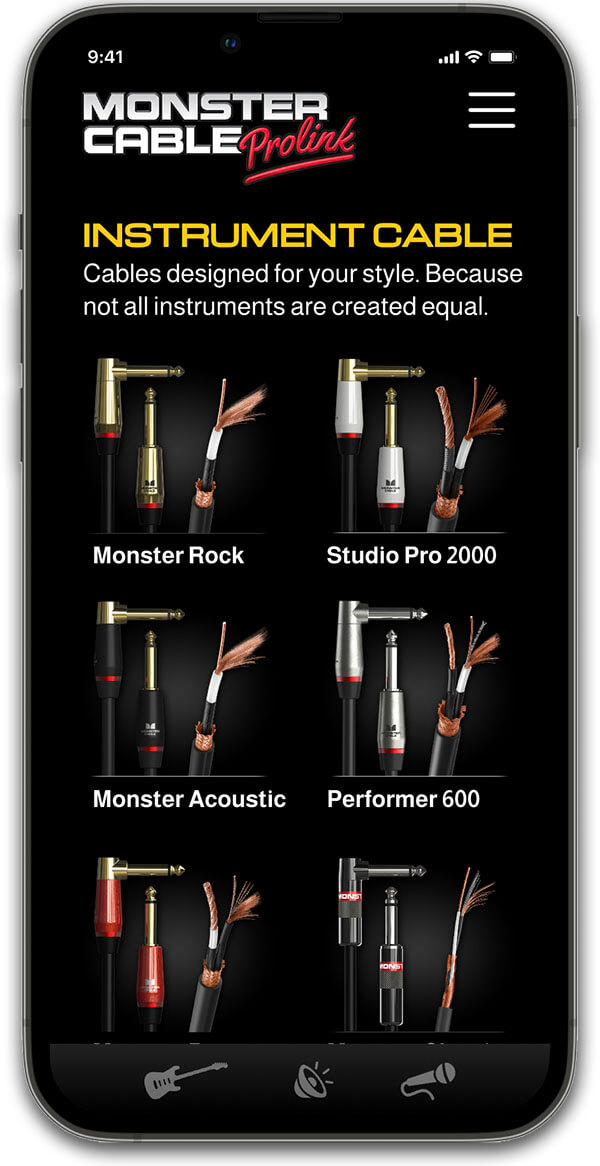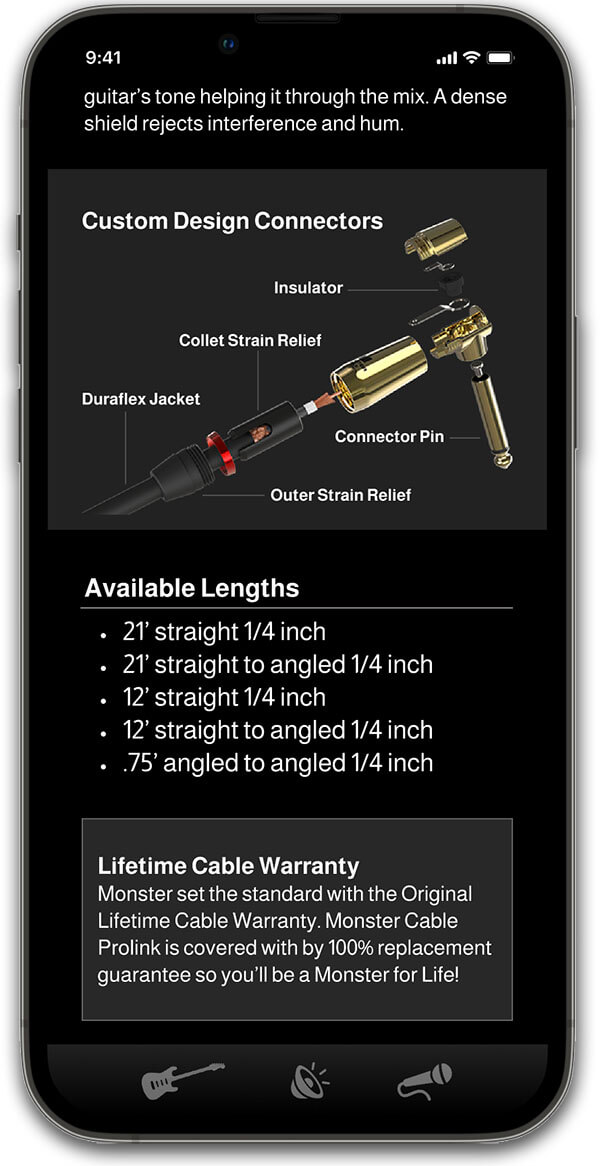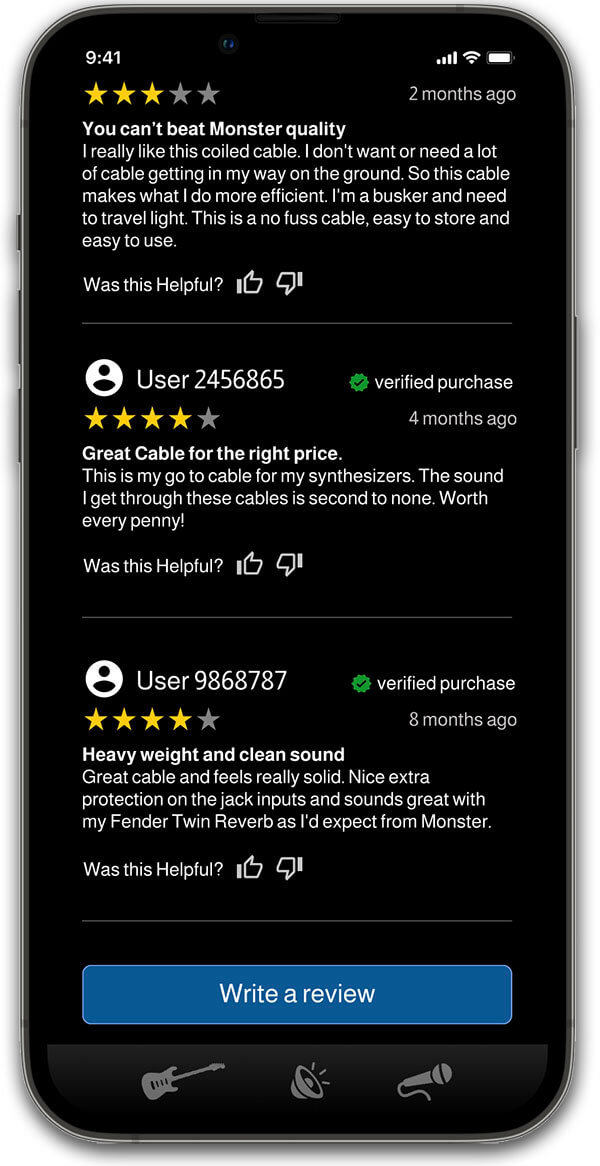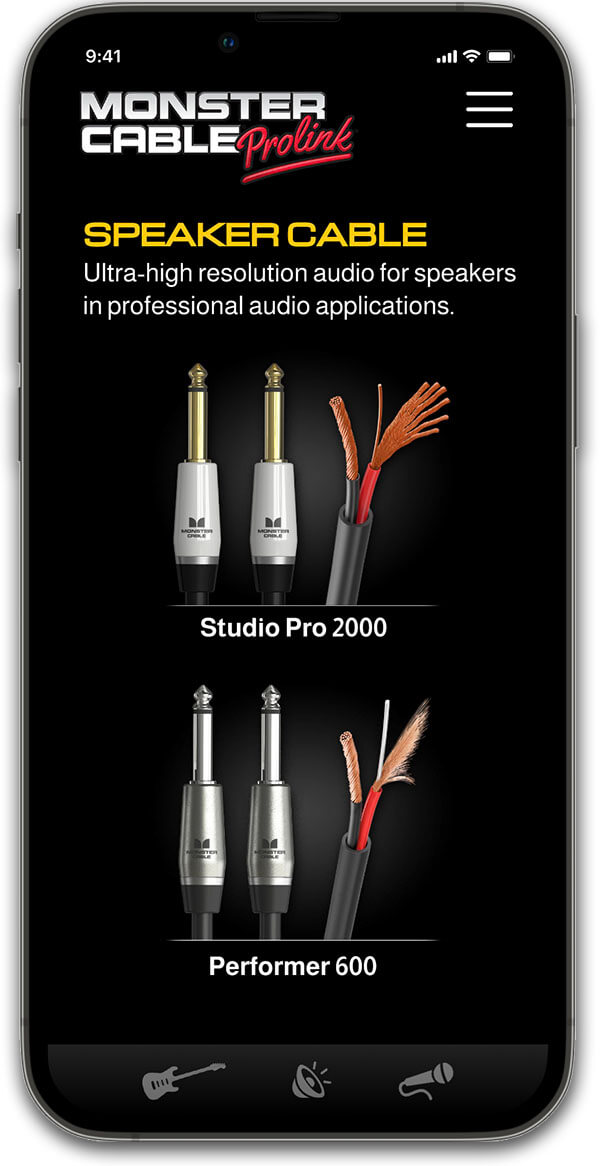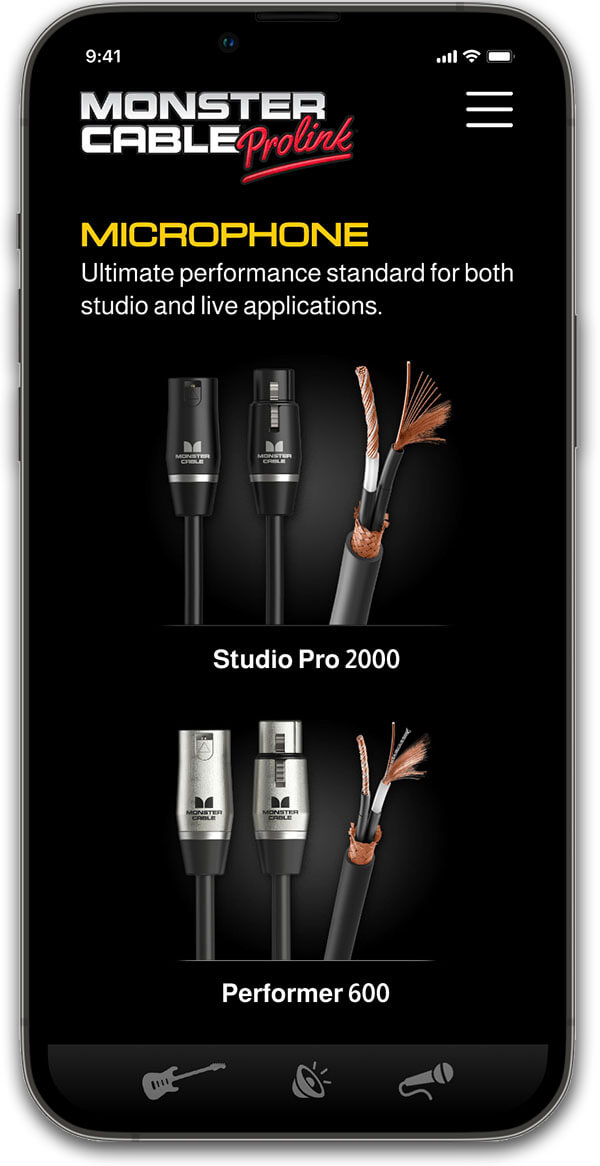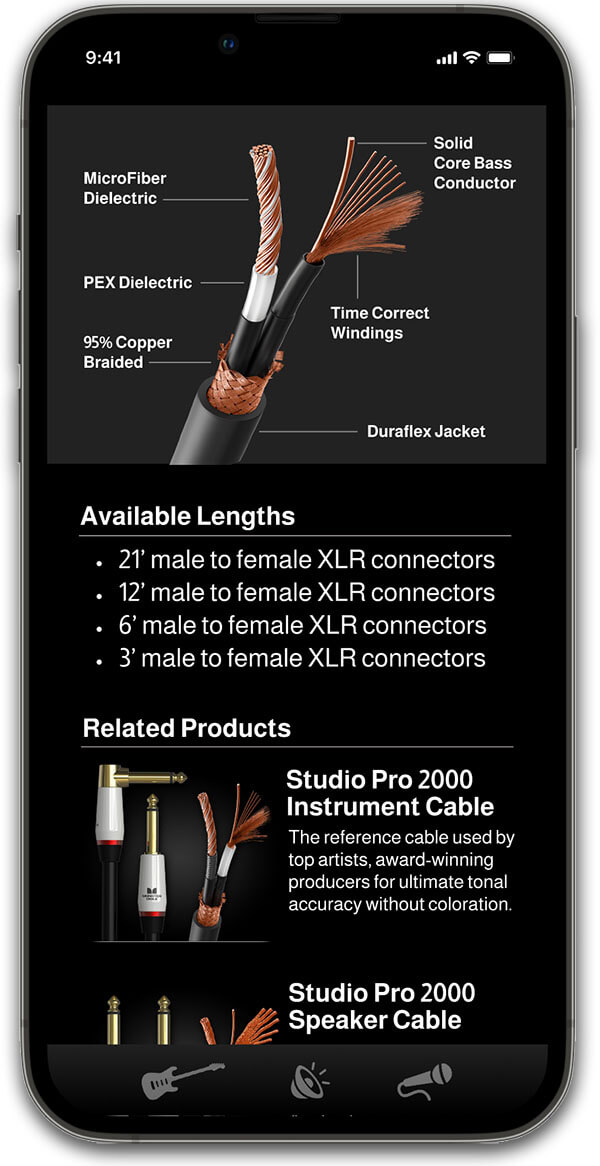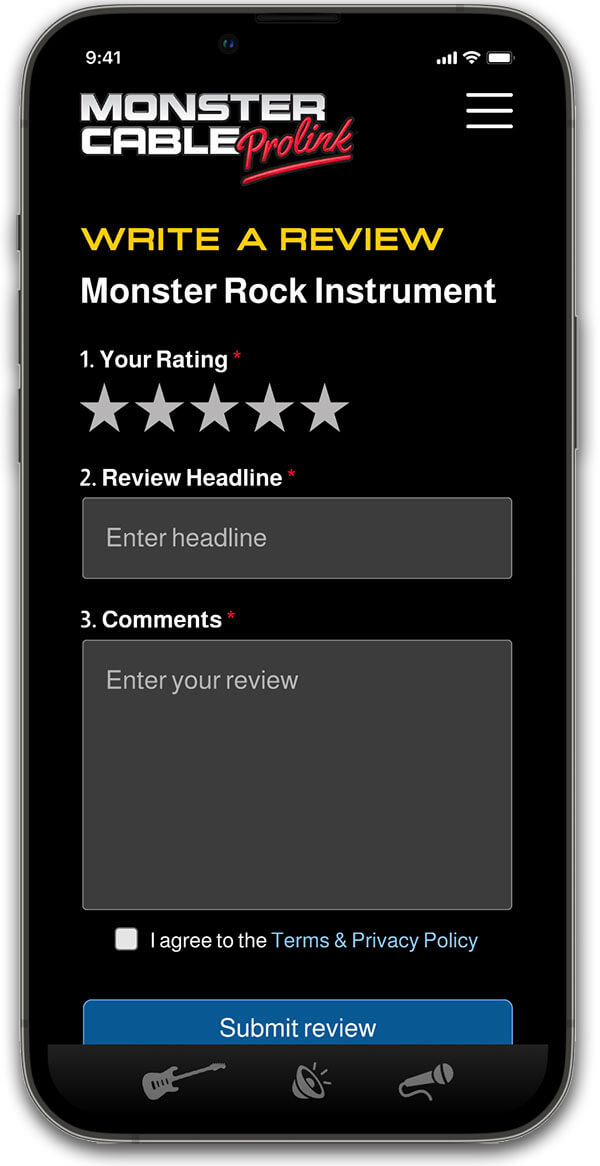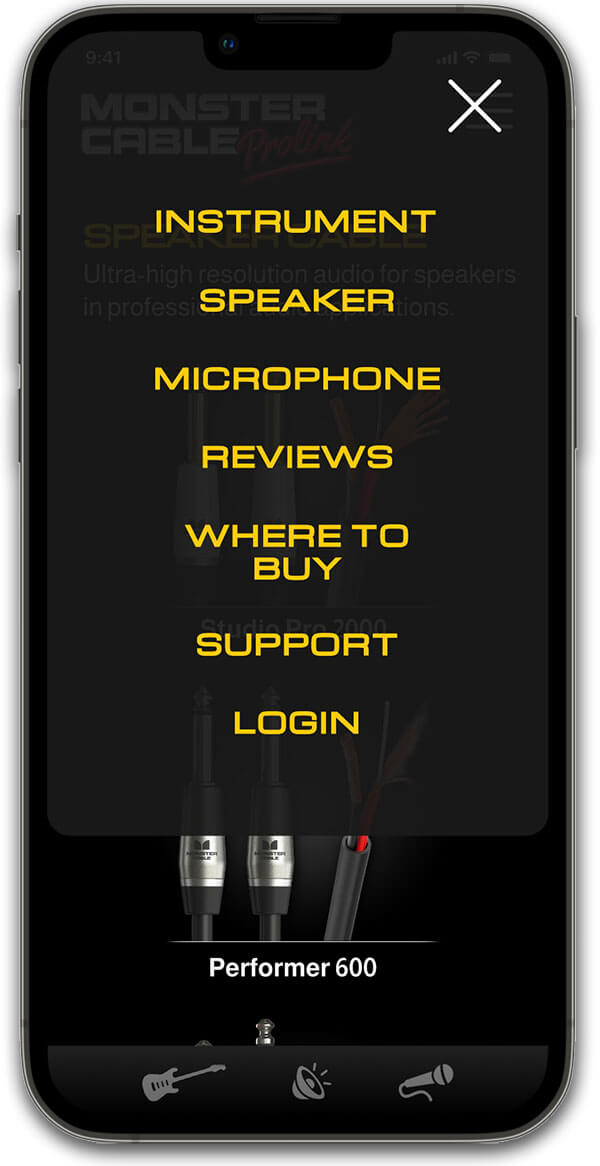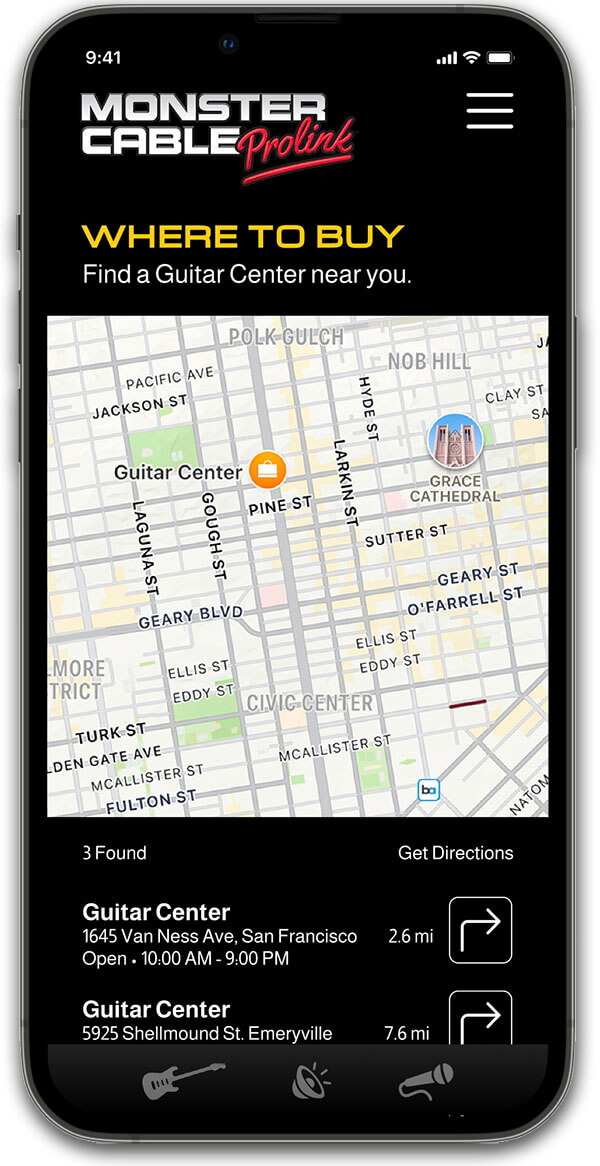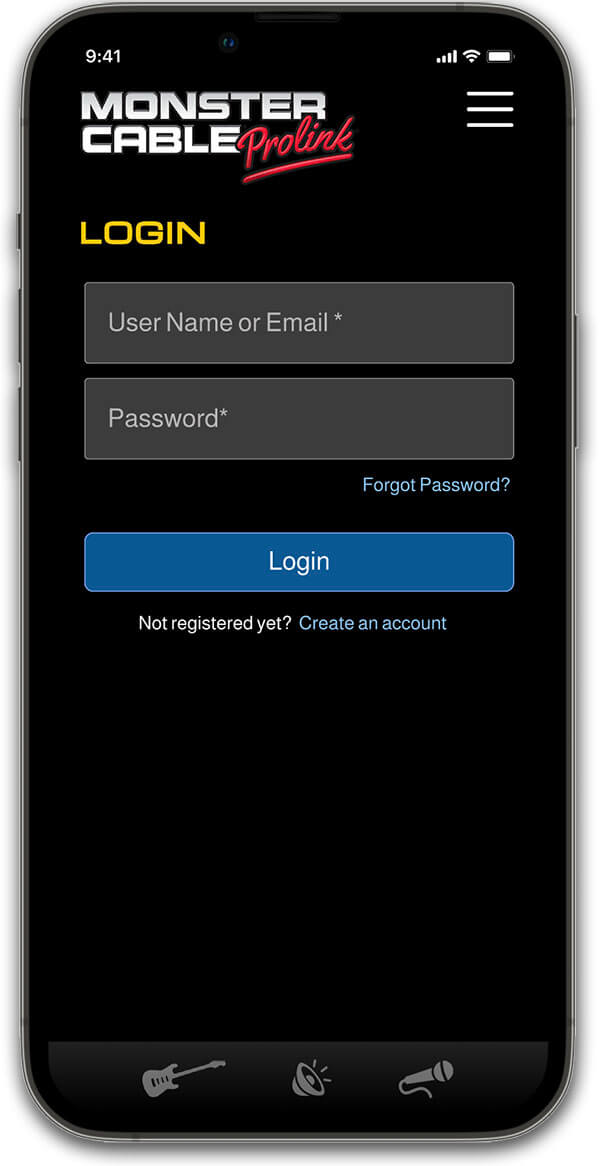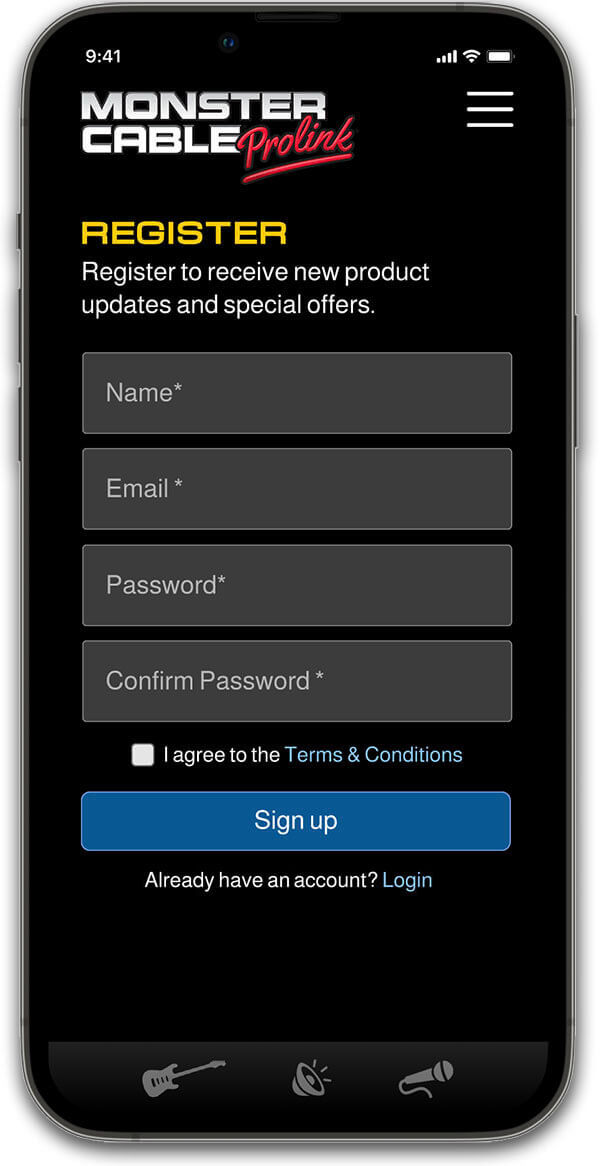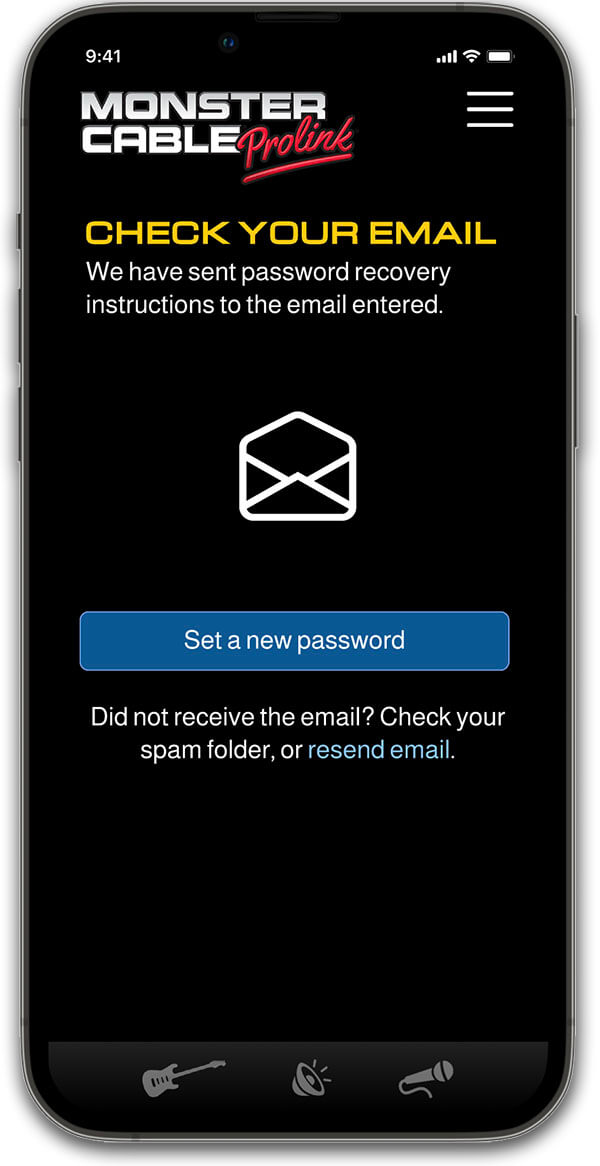 Results
The Prolink cable finder was introduced to Guitar Center as a minimum viable product to test user engagement and viability for a more robust offering. Our trainers focused on how to socialize the tool with customers and how to use it to highlight and validate key feature sets.
Sales associates found that they were able to speak more confidently about the Prolink feature sets and used it to validate their explanation of the feature sets. The finder was well received as a helpful tool in building customer confidence and driving more unassisted sales.